Hampshire CAMHS send support guide to year 7 pupils across Hampshire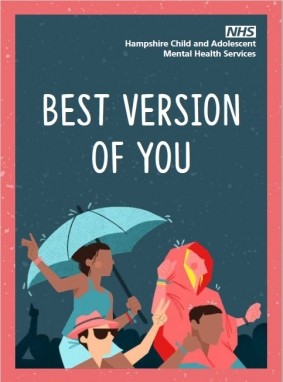 Year 7 pupils across Hampshire are to receive a mental health guide as they return to school this September, to help offer them the support they might need as they start the new term.
'The Best Version of You' guide is being sent to all secondary schools across Hampshire (except Southampton and Portsmouth), and focuses on a different topic on each page with information, tips and coping strategies. Topics include how to manage school life, how to manage the ups and downs of friendship, how to boost your body image and how to manage exam stress.
The team at Hampshire Child and Adolescent Mental Health Service (CAMHS), who provide specialist mental health services for children and young people across the county, have written the guide with the support of the Hampshire Police and Crime Commissioners Youth Participation Group, and a number of young people from Nursling Primary School, Westgate School, and Swanmore College, who took part in focus groups and shared their ideas.
Helen Dove, Innovation and Participation Lead for Hampshire CAMHS, said: "The past year has been really hard for young people across the country; experiencing school closures, being away from their friends and not being able to participate in the usual hobbies they enjoy. For some, this will have understandably impacted their mental health.
"As young people return to school this September, we wanted to do something to support them. We know that for year 7 pupils the transition from primary to secondary school can be a big step, which can bring feelings of anxiety and worry, so we wanted to focus on this age group and offer them some help.
"We hope that these bright, colourful guides will provide young people across Hampshire with useful tools that they can use to support their mental health and emotional wellbeing. Even if they don't need it right now, life can be unpredictable and you never know when you might need extra help."
The guide also includes information on where to go if you need more help and support for your mental health.
To find out more about upcoming mental health campaigns and events in your area, or for more information about the specialist services that Hampshire CAMHS provide, go to www.hampshirecamhs.nhs.uk.