Hampshire CAMHS launch new book sharing young people's experiences of lockdown and the pandemic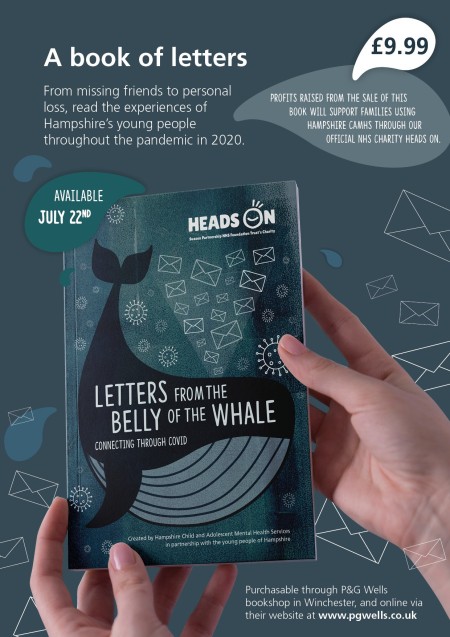 Letters from the Belly of the Whale: Connecting Through Covid, is a book containing letters written by children and young people, documenting what the Covid-19 pandemic has been like for them. A small book launch took place on Thursday 22 July in the historic Jane Austen gardens at Winchester College.
Hampshire Child and Adolescent Mental Health Service (CAMHS), who provide specialist mental health services for children and young people across the county, reached out in March 2020 to young people via their schools, youth organisations and social media, inviting them to write a letter to share what their own personal experience of the pandemic and lockdown was like for them. The hope was that publishing the letters would help bring people together and to feel less alone with what they have experienced, and to find some comfort in having the opportunity to voice how challenging this time has been for them.
Close to 100 letters were received, each sharing a personal experience of what it was like for the individual, what they had learnt, and what made the experience unique for them. The book title is inspired by one of the letters received, where the individual compared lockdown to the story of Jonah who was swallowed into the belly of the whale.
Helen Dove, Innovation and Participation Lead for Hampshire CAMHS, said: "At a time when the country was closed down overnight, creating disconnection, fear, uncertainty, confusion and loneliness, it felt more important than ever to hear from our young people how this was impacting them. We were all experiencing a once in a lifetime event so it seemed vital that this wide range of experiences was captured and shared to inform and connect.
"Creative writing is a great way to express yourself, and explore and process your feelings, which can really help with our mental health and wellbeing.
"The experience has been humbling, exciting, and challenging, bringing both tears and laughter. I am personally grateful to have had the privilege of reading every letter received and I am so thankful to every person who took the time to write and submit a letter, bravely sharing their experience of this difficult time."
Winchester College kindly hosted the book launch at their venue free of charge and provided refreshments for the guests.
The book has also been supported by P&G Wells, Winchester's historic independent book shop, and will be available to be purchased from their store and online at www.pgwells.co.uk/shop/local-authors/letters-from-the-belly-of-the-whale/. Dr Steve Scholey, Manager at P&G Wells, said: "Young people's experiences of lockdown and, for far too many, the resulting mental health issues, will I suspect stay with them for a very long time.
"With my own daughter having got to the end of her GCSE exams on the day that Helen Dove approached me about 'Letters to Covid', how could P&G Wells not support the project?"
Funds raised from the sale of the book will go to Heads On, Sussex Partnership's official charity, to be used to help young people in Hampshire. To find out more about upcoming mental health campaigns and events in your area, or for more information about the services that Hampshire CAMHS provide, go to www.hampshirecamhs.nhs.uk.