Rainbow badges bring joy to children of NHS staff
Children of NHS workers at Sussex Partnership NHS Foundation Trust have been receiving badges of achievement to thank them for staying at home and helping keep everyone safe.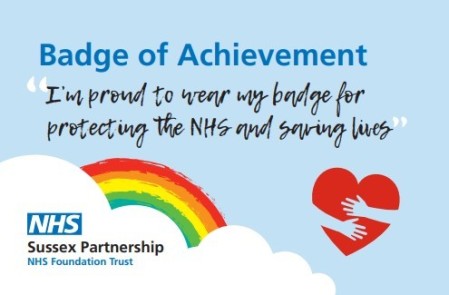 Sussex Partnership NHS Foundation Trust, which provides specialist NHS mental health and learning disability services for people of all ages across Sussex, and for children and young people in Hampshire, wanted to say thank you to the children of their staff to let them know the things they are doing to support their community during the pandemic are appreciated.
So far, the Trust has sent out over 470 achievement badges and personal thank you letters from CEO Sam Allen to the children, grandchildren, nieces, nephews and other family/friends of staff.
Sue Little, Executive Support Administrator, whose granddaughter Daisy-Jane, aged 9, is proudly showing her letter and badge, said: "I am so proud of Daisy-Jane, as fortunately she has been able to attend school but like so many other children she hasn't been able to spend time with her friends. Seeing her face light up when she received her badge and letter has made me very proud of what she is doing every day to help keep people safe."
Sam Allen, Chief Executive, added: "It is nice to do something small that recognises the effort children are making to support the NHS as their families work hard to keep patients safe during Covid-19. I am pleased Daisy-Jane liked her badge of achievement and was delighted to see this smiling picture of her."
Last summer Sussex Partnership NHS Foundation Trust sent out over 500 rainbow certificates to the children of their staff. The certificates were so well received and such a success, with some being sent as far as Newcastle and Wales, that the Trust wanted to do something else to say thank you and recognise the efforts children are making during the pandemic and so have designed badges for children to show them they are still being noticed and appreciated.
Thank you to all the children of Brighton and Hove, Hampshire, East Sussex and West Sussex for staying home and safe.