Sussex residents raise mental health awareness and spread joy with NHS charity Hearts of Gold Campaign
Sussex residents raise mental health awareness and spread joy with NHS charity Hearts of Gold Campaign
Across Sussex, over 70 schools and countless numbers of young people have taken part in Heads On's Hearts of Gold campaign, spreading joy and hope in local communities whilst raising mental health awareness. Heads On is the official charity of Sussex Partnership NHS Foundation Trust, which provides specialist NHS mental health and learning disability services for people of all ages across Sussex, and for children and young people in Hampshire.
Heads On created a schools and young people's project providing children's mental health resources and a live stream with a local artist for young people to decorate gold hearts to display in their windows. Adults and children have also been sending one another a Heads On Hearts of Gold postcard to individuals and teams that have supported their mental health during the pandemic.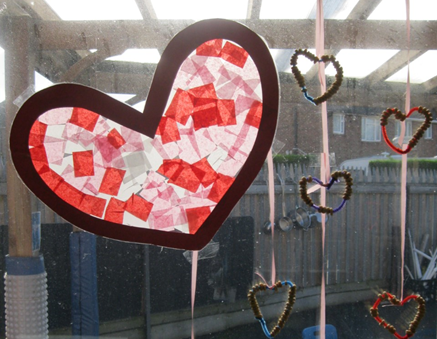 All Saints Church of England Primary School, Bexhill is one of the schools taking part in the project. Deputy Head Teacher and Inclusion Manager, Craig Shelton said: "The wellbeing and welfare of our pupils and families is at the core of everything we do. During the first lockdown we worked with Carrolls greengrocers to put messages of hope in food parcels for the local community.
"This time we have been proud to work alongside Heads On charity to send messages of thanks to our families who have supported the school and staff as we have sought to support them. Our pupils have created hearts of thanks for window displays and as a school we have sent home hearts of gold thank you cards as part of our 'pancake parcel' delivery! These parcels will ensure that every family from our school and nursery will receive the ingredients, recipe and a chef's hat, delivered by volunteers and to have a fun family experience knowing that we are thinking of them."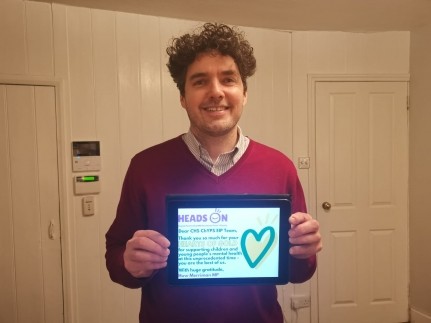 Local MP for Bexhill and Battle, Huw Merriman, also supporting the campaign commented: "Those who have gone above and beyond to support others mental health at this unprecedented time of isolation and uncertainty have truly been the unsung heroes of this pandemic. I'm grateful to Heads On for bringing our community together for such an important campaign and was delighted to play my small part in thanking Bexhill Medical Centre's outstanding specialist community mental health team with a Hearts of Gold postcard – who I know have been a pillar of support to very many local children and young people."
Head of Charity at Heads On, Rachael Duke commented: "We are absolutely thrilled with the amount of mental health awareness this project has raised. Here at Heads On and Sussex Partnership, we have loved seeing all the hearts of gold in and around our own local communities and on social media. The act of sending a thank you card to a person or team who has support your mental health can really make their day; I know NHS mental health staff have been so happy to receive some of the cards themselves.
"We really hope the project has brought adults and young people some joy and resources to help during the pandemic".
Heads On rely on the generosity of the local community to continue with their Covid-19 response, supporting people who are most affected by the pandemic. If you would like to make a donation or get involved with fundraising please visit www.headsoncharity.org