New High Intensity Service launched for military veterans facing mental health crisis
Veterans from across the South East facing a mental health crisis can quickly access dedicated help and support thanks to the introduction of a new High Intensity Service (HIS) that is now available in Sussex.
Former service personnel or their loved ones can call a dedicated phone line, say they are a veteran and get access to rapid support, regardless of length of service. Mental Health practitioners will be in the other end of the line to offer specialist mental health support.
The new service links with existing mental health services for veterans and will be available across Hampshire, Sussex, Surrey, Kent, Berkshire, Oxford and Buckinghamshire.
The service aims to step in swiftly when a veteran experiences a mental health crisis to help meet their needs during or after their crisis.
Rebecca Hankins, Veterans Mental Health Lead – Sussex High Intensity Service, said: "I am proud and excited to be part of this innovative new service providing intense support to veterans in urgent need. It is a much needed service and I am looking forward to working with our amazing partner organisations to deliver an outstanding, unique service to veterans."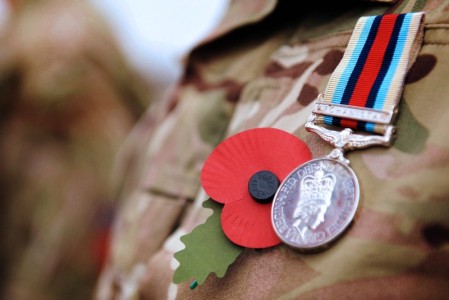 Following a referral into the service, callers will be contacted within eight hours from a Veteran Peer Support Worker from veterans' support organisation, All Call Signs.
Once accepted into the HIS team a range of support and care coordination will be available from the team, which consists of clinical and peer support workers. At all points throughout the process, right up until the time of discharge, a peer support worker will stay in contact with the veteran or family member. In addition, where there are complex social needs around housing, benefits, relationships, employment or other social issues, a veteran liaison support worker, from Walking With The Wounded, will be able to offer more intensive face to face support.
Sam Allen Chief Executive at Sussex Partnership NHS Foundation Trust, said: "The High Intensity Service is an important new service for veterans who are facing mental health crisis. The service will provide individual care and support to both veterans and their families at a time when it is most needed. We are proud to work closely with veterans across the South of England. Our specialist team is looking forward to getting the new service up and running in Sussex and working alongside our partners across the South East."
The service in the South East, based on the NHS England specification, was informed by the Trauma in Mind report, a year-long study commissioned by Solent NHS Trust and NHS England into the experience of veterans and their families who require intensive healthcare services.
Kate Davies CBE, Director of Armed Forces NHS England and NHS Improvement, said: "I am proud to see the South East of England offering the new Veterans' Mental Health High Intensity Service (HIS). This marks significant progress in terms of mental health service provision for veterans, focusing on individual care when it is most needed. We have listened to veterans and their families to inform this new service, which includes crisis care and round the clock support to ensure those in need have access to the very best care. Over the last few years, NHS England has launched the Veterans' Mental Health Transition, Intervention and Liaison Service (TILS) and the Veterans' Mental Health Complex Treatment Service (CTS), which, together with the Veterans' Mental Health High Intensity Service (HIS), now offer a complete mental health care pathway for veterans across England. I look forward to seeing all regions roll out the HIS over the coming months."
Walking With The Wounded (WWTW) Operations Director, Fergus Williams, said: "The NHS is a key Partner for WWTW. Although the majority of former military men and women transition successfully to civilian life, a small but significant minority struggle. Those who need support can find their care pathway complex. The launch of the new High Intensity Service in the South East Region with Solent NHS Trust as lead provider will enable ex-military personnel and their families to navigate NHS veterans' services with ease. Importantly, the High Intensity Service adds value to the already existing NHS Veterans Mental Health services. Partnering with the NHS is fundamental in creating a tailored community support service model which is championed by WWTW. This is a fantastic initiative which will make a significant difference to those that served."
The number for veterans or their loved ones to call if they need urgent mental health support from the High Intensity Service is 023 9438 7924.