Personalised sculpture unveiled at local mental health centre in memory of art psychotherapist
A small ceremony took place last month at the Aldrington Centre in Hove, in memory of a local art psychotherapist who worked in the city for many years, supporting children and young people with mental health difficulties.
Run by Sussex Partnership NHS Foundation Trust, who provide specialist mental health services to all ages in Sussex, and children and young people in Hampshire, the Aldrington Centre is a community mental health centre for children and young people in Brighton & Hove.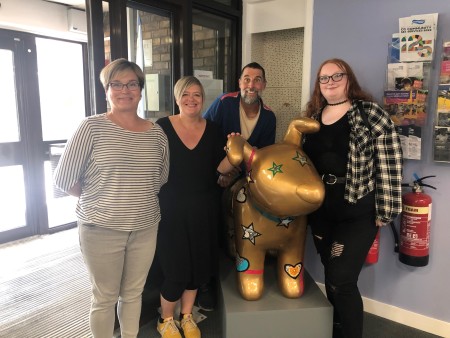 Felicity Aldridge, who sadly passed away in 2021, worked as the lead art psychotherapist at Aldrington Centre for over 20 years.
One of the projects Felicity led during her time with the Trust was a summer arts project called 'Lost and Found', for children who were in care and transitioning to secondary school. The art project invited the group of young people to share items and objects of importance to them, which were then attached to a large snowdog sculpture, that had previously been part of the Snowdogs by the Sea art trail in 2016 to raise funds for Martlets Hospice.
The snowdog remained on display in the Aldrington Centre reception for several years but with wear and tear, needed renewing, which is when the young people and staff came up with the idea of giving the snowdog a makeover, in memory of Felicity. Now covered in golden stars and hearts, inspired by the art of Romero Britto, and each with a personal message written from a young person or member of staff, the snowdog, who has been named Astrid, has now taken permanent residence again in the Aldrington Centre reception.
The Therapeutic Art Group (TAG) at Brighton Child and Adolescent Mental Health Service (CAMHS), who took on the redecoration as an art project, has been a long-term art group for young people, the majority of whom have had experience of being in care. It has been co-facilitated by Adam Mellor, Art Psychotherapist and Clair Richards, Occupational Therapist, alongside TouchedTheatre, a local arts, film and puppetry company who specialise in working in mental health, whose work on this project is supported by BBC Children in Need.
Colleagues at the Aldrington Centre, said: "Felicity was the wise owl of the group. She was always calm, always caring and compassionate. We loved her creativity and curiosity and she was an inspirational woman to work with. We know that her work with children, young people and their families has had a lasting effect and she will remain in many hearts."
To find out more about the specialist mental health services that Sussex Partnership provide for children and young people in Sussex, go to sussexcamhs.nhs.uk.